ANNOUNCEMENTS
The Town Clerk's office will be closed this Thursday, January 27th due to illness.
— — — — — — — — —
The Tax Collector is having problems with her telephone.  If you cannot reach her by phone please email her at taxcollectorhancockma@gmail.com and she will get back to you.  Thank you.
—  —  —  —  —  —  —
To order COVID test kits at no charge, go to Covidtests.gov or if you do not have internet access call 800-232-0233.
— — — — — — — —
The 2nd and FINAL load of sand/salt for the season was delivered to the Town Hall.  This is available for Town residents to pick up in buckets (not dump trucks and tractors) for personal use.
— — — — — — — — —
Yoga and Balance classes are now being held at the Hancock Baptist Church on Main Street in the lower level.  Balance Class is held on TUESDAYS at 11:30 a.m. and Yoga Class is held on THURSDAYS at 11:30 a.m.  The cost is $3.00/class
— — — — — — — — —
COVID Testing & Vaccination Information
— — — — — — — — —
THE HANCOCK VETERANS MEMORIAL
(Located on Route 43 between the Town Hall and the main cemetery)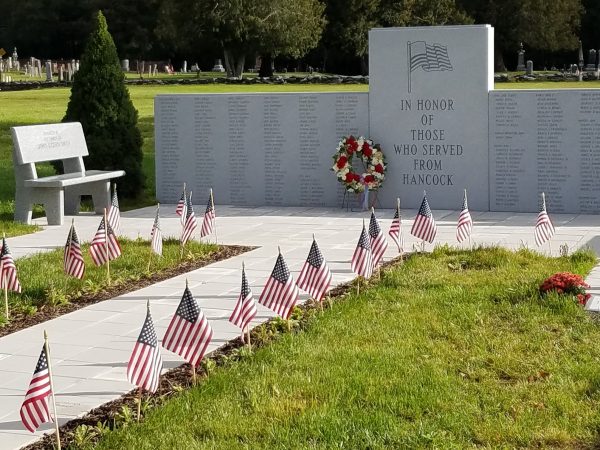 For more photographs go to PHOTOS in the top bar
Hancock is a quiet, peaceful town about twenty miles long and three miles wide, bordered on the east by the famous Berkshire hills, and on the west by the rugged Taconic range.  
Hancock is the longest and narrowest town in Berkshire County.  The northern portion of the town is separated from the southern portion by a mountain.  One has to drive through a couple of towns to the east or drive west into New York to get from one end to the other.