Upcoming Events
DUE TO COVID-19 PLEASE SEE THE ANNOUNCEMENTS BOARD TO THE RIGHT OF THIS FOR THE MOST UP-TO-DATE INFORMATION - Subject to change
If you need to be sworn in for a Town position, please come in, see Linda and 'get 'er done'
— — — — — — — — — —
THE HANCOCK VETERANS MEMORIAL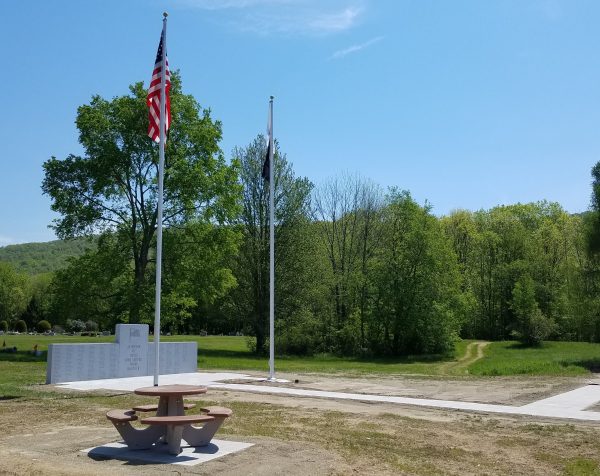 TO SEE MORE PICTURES GO ABOVE TO 'PHOTOS' AND SCROLL DOWN!
For some photographs of all the different work that has been done on our Veterans Memorial click on PHOTOS in the bar at the top.  A huge THANK YOU to all of the volunteers.  Please consider giving to this very worthwhile Town project.  Click on the following link to see the letter & the form to return with your donation.  THANK YOU!
VETERANS MEMORIAL FUNDRAISER LETTER
— — — — — — — — — — — — — —
4/5/21 UPDATE – If you qualify for a refund (see below) and didn't receive your refund in this month's Spectrum bill please call the Town Hall at 413-738-5133.  Thank you.
SPECTRUM/CHARTER UPDATE
Per Spectrum – All Hancock Spectrum customers who were charged any amount for an Apple TV device between December 11, 2020 and January 31, 2021 will be credited the full amount billed to the customer for the Apple TV device.  [After January 31 please follow the instructions that you were given by your Spectrum salesperson.]  If the customer is looking for a low-monthly-cost option, Spectrum is currently offering the Apple TV device, which typically retails for approximately $180.00, at a 50% discount, payable in 23 monthly installments of $3.99 (after which time the customer will own the Apple TV).
— — — — — — — — — — — — — —
DOG LICENSES are available at the Town Hall and are due by APRIL 1st.  A notice will be sent out to every dog owner on record by February 12th.  Rabies certifications and checks can be dropped off in the mail box on the railing by the Town Hall door.  The Town Clerk is available on Thursdays between 8:00 a.m. and noon.  Please feel free to call the Town Hall at 738-5225.
— — — — — — — — — — — — — — — — — — — — — —
HOMEWORKS ENERGY – No-Cost Virtual Home Energy Assessment
— — — — — — — — — — — — —
— — — — — — — — —
Yoga classes have been suspended until further notice.
Hancock is a quiet, peaceful town about twenty miles long and three miles wide, bordered on the east by the famous Berkshire hills, and on the west by the rugged Taconic range.  
Hancock is the longest and narrowest town in Berkshire County.  The northern portion of the town is separated from the southern portion by a mountain.  One has to drive through a couple of towns to the east or drive west into New York to get from one end to the other.