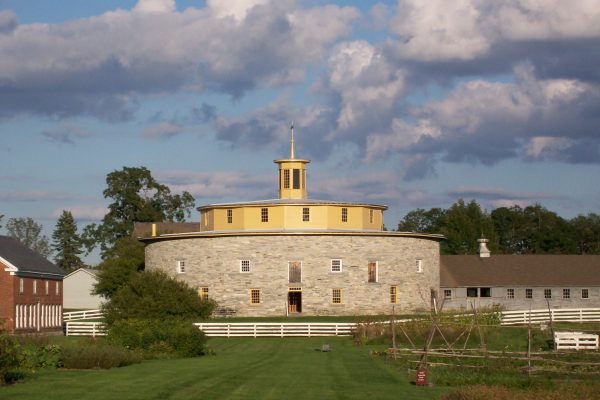 Home to the Shakers for more than 220 years, Hancock Shaker Village is a living history museum situated on 750 tranquil acres in the Berkshires that has brought the Shaker story to life for more than two million visitors and scholars from the region and abroad.  A National Historic Landmark, Hancock Shaker Village includes 20 original Shaker buildings including the iconic 1826 Round Barn and Shaker Brick Dwelling, a working farm with livestock and heirloom medicinal and produce gardens, a Discovery Barn providing hands-on activities for visitors young and young-at-heart, and a fully accessible nature trail. Illuminating a way of life and the Shakers' commitment to sustainable agriculture, design, innovation, commerce and principled living, the museum is also home to more than 22,000 Shaker artifacts including furniture, textiles, tools and everyday goods – making it one of the world's most premier Shaker collections.
The museum, Seeds Market Cafe, and Shaker Mercantile are open every day mid-April through mid-November.
Hours vary seasonally.
Holiday programming is scheduled on weekends after Thanksgiving and through much of December.
Visit HancockShakerVillage.Org for more information.
Shaker Mercantile offers a unique selection of goods made simple, beautiful and with purpose. Museum admission is not required. 413.443.0188 x246.  Shop.HancockShakerVillage.Org
Seeds Market Cafe highlights the spirit and nature of the Shaker's authentic living heritage. Seasonal menu items offer Shaker-inspired, neighborhood-sourced lunch and snacks daily, as well as special event dinners.  Museum admission is not required. 413.418.9100
Hours, Admission, and Directions
Admission is free for Hancock, Mass. residents, Hancock Shaker Village members and for all children 12 and younger. Adult admission is $20 (many discounts apply). Youth rate for ages 13 to 17 is $8.
Groups and field trips are welcome. Call for pricing.
The entrance to Hancock Shaker Village is located on Route 20 in Pittsfield, Ma, just west of the junction of Routes 20 and 41. For GPS purposes, the Village is located at 34 Lebanon Mountain Rd., Hancock, Mass. 01237. Or, enter 1843 W. Housatonic St., Pittsfield, Mass, 01201, then proceed a half mile west on Route 20 to the entrance.
Parking is free.