Upcoming Events
DUE TO COVID-19 PLEASE SEE THE ANNOUNCEMENTS BOARD TO THE RIGHT OF THIS FOR THE MOST UP-TO-DATE INFORMATION - Subject to change
UPDATE – EARLY/ABSENTEE BALLOTS were mailed out Tuesday, October 6th.  If you requested one, you should have received it.   Please click on the following link for a list of early voting hours   EARLY VOTING HOURS FOR PRESIDENTIAL ELECTION   IF YOU WOULD RATHER NOT MAIL IT, FEEL FREE TO DROP YOUR BALLOT OFF AT THE TOWN HALL – the Town Secretary is there from 9-noon weekdays or you can put it in the mailbox on the back step.
— — — — — — — — — — — —
We just received the following from Massachusetts Emergency Management Agency [MEMA] concerning the drought
— — — — — — — — — — — — — —
The Wednesday, October 21 BOARD OF SELECTMEN's meeting has been rescheduled from 4:30 p.m. to 2:00 p.m.
— — — — — — — — — — — — —
HALLOWEEN TRICK-OR-TREATING will be Saturday, October 31 between 5 and 7 p.m.  Parents can use their discretion.  If homeowners would like to participate, please turn on your outside light.  Candy could be put on the porch a few at a time if you'd rather not have personal contact. Below are some suggestions from the State.
• Place candy on a platter instead of a bowl.
• Instead of traditional trick-or-treating, opt for one-way trick-or-treating, with treats placed outside of the home for trick-or-treaters as a "grab and go" while keeping distance from others.
• Consider leaving hand sanitizer by any treats left out for trick-or-treaters to use.
• Wear a face mask or face covering. For more information on face masks and face coverings, please see the state's Mask Up MA! webpage.
• A costume mask is not a substitute for a face mask or face covering. To protect yourself and others, ensure you are wearing a protective face mask or covering instead of or in addition to a costume mask.
• Observe good hand hygiene, including hand washing and use of alcohol-based sanitizers with at least 60% alcohol. Carry hand sanitizer and use it often, especially after coming into contact with frequently touched surfaces and before eating candy.
• Refrain from touching your face.
Hope you find this helpful.
—  —  —  —  —  —  —  —  —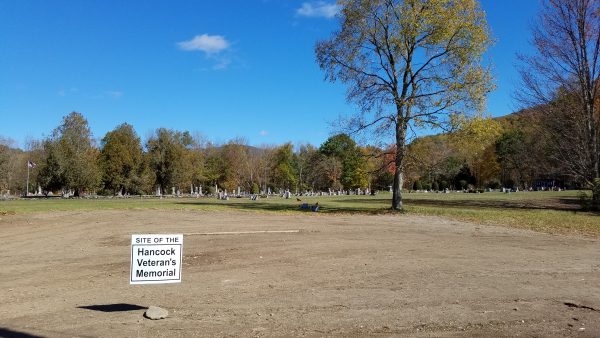 For photographs of the work that was done to clear the land for our Veterans Memorial click on PHOTOS in the bar at the top.  A huge THANK YOU to all of the volunteers.
—  —  —  —  —  —  —  —  —
HOMEWORKS ENERGY – No-Cost Virtual Home Energy Assessment
—  —  —  —  —  —  —  —  —
Because the Town Hall has created new office spaces, new desks were purchased and were delivered SEPTEMBER 10.  There is heavy-duty 2-drawer file cabinet and a cheaper, smaller 2-drawer file cabinet as well as a few particle board pieces available.  The wooden desks have been spoken for and removed.  Please call the Town Hall at 738-5225 if you are interested in checking them out.
—   —   —   —   —
As of Monday, August 17th the Town Hall has reopened for in-building business.  Please note the signs along the driveway when driving in so that you know which building entrance to use – depending on what you need.  Masks and social distancing is required.  Thank you for your cooperation.
— — — — — — — — — — — — — —
Effective August 1, 2020, all visitors and returning residents entering Massachusetts must follow new travel orders. The Commonwealth has made great progress to slow the spread of COVID-19 and gradually re-open the economy, and all visitors have a responsibility to help us keep transmission levels as low as possible.    Please go to the following site for more details:     https://www.mass.gov/info-details/covid-19-travel-order
— — — — — — — — — — — — — — —
Balance class has resumed at the Town Pavilion on Clark Road.  It is held every Tuesday from 11:30 a.m. to 12:30 p.m. weather permitting at a cost of $3.00 per person.
UNTIL FURTHER NOTICE – The Board of Selectmen meetings will be held on the first and third Wednesdays of each month at the Town Hall at 4:30 p.m. starting May 6th.
FARMERS MARKET & FOOD PANTRY INFORMATION 6-22-20
DOG LICENSES are available at the Town Hall and were due by APRIL 1st.    Transfer of paperwork/check can be done using the mail box on the railing by the Town Hall door. Please feel free to call the Town Hall at 738-5225.  Sorry for any inconvenience.
— — — — — — — — — — —
Yoga classes have been suspended until further notice.
Hancock is a quiet, peaceful town about twenty miles long and three miles wide, bordered on the east by the famous Berkshire hills, and on the west by the rugged Taconic range.  
Hancock is the longest and narrowest town in Berkshire County.  The northern portion of the town is separated from the southern portion by a mountain.  One has to drive through a couple of towns to the east or drive west into New York to get from one end to the other.